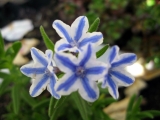 There will be a Flower festival in St Denys Church on the Bank Holiday weekend at the end of May. 29th, 30th and 31st May 2010.
This will be a really lovely event for the village.
Moreton Flower Club have kindly agreed to make the flower arrangements on the theme of The History of Little Compton.
If you feel able to help in any way either helping during the weekend or sponsoring an arrangement please ring Louise Moorman on 674467, or Jeremy Evans on 674241.
More details to follow.